Meet our Pro Staff Manager, Michael Drozdo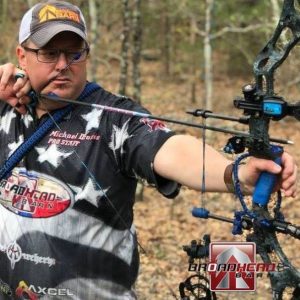 Avid hunter and archery shooter of 40+ years.  I can still remember the day my father took me to Smokey's in Oil City PA and bought me my first Bear compound bow.  As a kid I wore the strings off that thing every year and my father knew he created a monster.  I got out of archery for a period of 15 years through college, but found I was missing the outlet I needed.
In 2003 I picked up a bow from a friend and got back into the sport.  Since that time, I have gone all in.  It is a great way for me to relieve stress from my job; I see and do things that most people would not understand.  Archery has afforded me a way to cope with stress and process things I see in my line of work.  It also provides the opportunity for me to be a part of God's creation on a very intimate level.  Being in a tree 30 feet in the air provides for a lot of time to collect and organize thoughts, prayer, relaxation and if you are lucky the chance to score some groceries from the good Lord's pantry.  I have built a bow shop in my home, I do all my repairs and preventative maintenance.
Over the years I have shot more brands of bows than I can count on 2 hands. Now, I am an avid shooter of New Breed Archery bows.  They are a company whom I have come to trust, love and revere. I have become friends with the owner of the past few years and I believe, they are the best company in the market for customer service, hands down.  If you ask me I will always tell someone to check out New Breed, but with that being said, if you're in the market for a new bow, shoot them all, the bow will pick you.
 The reason I am here; Sawtooth Outdoor Products.  Several years ago, I saw a post on a Facebook page and the Peep sight fascinated me.  I immediately got on the phone and called the owner of the company, Dan Ady.  I talked with him an hour that day and I think we clicked.  We had a lot of things in common and the love of archery.  He sent me a few of the testing Peep It's to see if I could make them fail.  I could not in the bows I had access to.  I constantly gave him feedback, made a few short videos that he could use.  I did however get the Anchor Knot to fail, and with the feedback, Mr. Ady has created and perfected "Three of the Greatest Inventions in Archery", the "Peep It, "Anchor Knot", & the "Clarifier Peep It".  I will never go back to the old-style peep.  I have shot over 5000 shots in the past 3 years and never had an issue with any of the products past the testing phase.  This company has done it right. I only support products which I have used tested and put to the test.  Sawtooth outdoor Products is one class act and I am happy to be a part of the family.
Become one of our Pro Staff
Download the Pro Staff application for Sawtooth Outdoor Products Here.
We are looking for team members who are hunters, tournament archers and shooting professionals willing to represent SOP with the highest of standards.  We are looking for 100 team members who will actively promote SOP through social media, blogs, publications, and trade shows. As a SOP Pro Staffer, you will be expected to provide us with regular updates, photos and videos of your hunts and shooting activities.  As a Pro Staff member all media that you post or send SOP, you, the associate are granting SOP permission and the rights to use your images and media to promote SOP through all avenues we see fit.
As a SOP Pro Staff member you will become a part of an elite 100 person team.  You WILL be expected to post at least one picture of one of the following weekly; archery shooting, SOP product, target, bow fishing, target practice at home or in the field, hunting or archery related. You WILL be expected to post once a week to any one of these platforms;  Facebook, Twitter, YouTube or Instagram referring to SOP or Sawtooth Outdoor Products, SOP Facebook &/or website accounts.  You will need to tag SOP or Sawtooth Outdoor Products on your related posts, which will easily direct individuals to our pages to view for themselves.  If you are selected, you will be added to our SOP Pro Staff Facebook secret page for staff members only, where we will share vital information about SOP products, posts to be shared to the public, staff requirements, a forum to share information and much more. We are looking for members who will strive to do as much as they can to help promote SOP.  All Pro Staff members are expected to respond in a timely manner to any request for information.  If at any time a member is not meeting these expectations, SOP reserves the right to terminate your staff membership. SOP agrees to promote our Pro-Staff through every avenue that is available. At times you may be asked to test new products and do a thorough review.
The SOP Pro Staff is being formed to meet the increasing demands of promoting the SOP products.  You may be asked to assist with your local dealers, dealer events, trade shows and other appearances.  You may also be asked to help promote SOP through media endeavors, banquets, consumer shows and special events in your respective areas.  We expect you to always promote SOP at Archery events, competitions and hunts.
When posting hunting photos, please be tactful in positioning the animal by cleaning off excess blood, placing the tongue back in the mouth and try to hide the underside of the animal if it has been gutted.  Please take at least one picture of your animal with your bow and hat to promote SOP.  Anything promoting you in the field such as human interest stories, stories about competitions and your archery or outdoor adventure endeavors are always encouraged.  SOP will provide a Hat and/or decal to assist you in promoting SOP.  Each staff member will have the opportunity to purchase SOP products at a discounted rate.  There will be a staff discount code for the website that will be specific to the Pro Staff Team.  Never share this code or this will terminate your membership on the team.