Peep-It Installation:
Use extreme care when removing existing string serving from bow.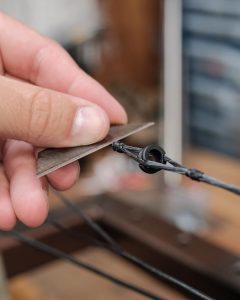 Bow press must be used. DO NOT use string splitter for this application.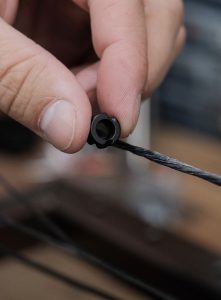 Remove existing peep and thoroughly inspect string before the next step. (DANGER) Replace any string that may be to unsafe to shoot.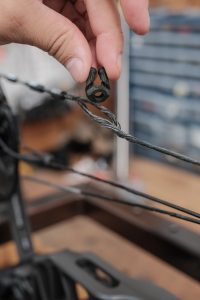 Evenly separate string into two halves.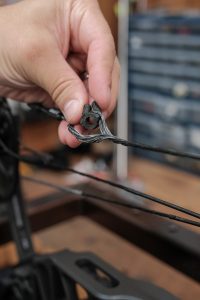 With the Peep-It posts facing the top cam, Place one side of the peep into the provided grove. Then repeat this process on the other side.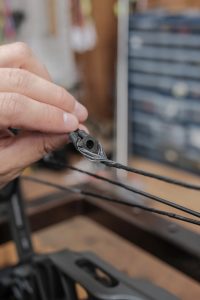 Insure that all string strands are routed into groves properly.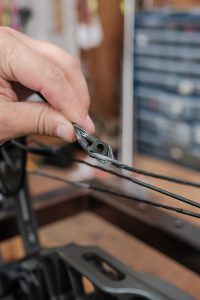 With the bow string relaxed, remove the wax within a 3 inch area of where the peep will be installed. Mark the spot where the previous peep was embedded before removing the old peep.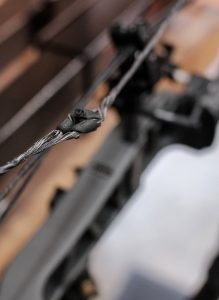 Verify correct installation before next step.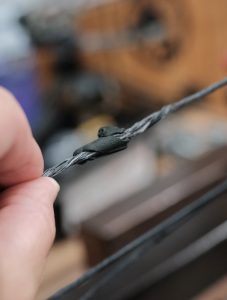 Bow string may now be put back under full pressure.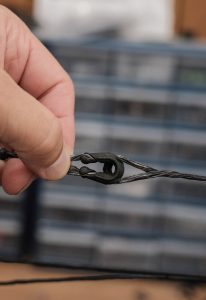 Fine tuning may be required. Moving the peep it up or down minimally without relaxing the string may cause residual wax to build up in the grooves within the posts. Wax is by nature a lubricant. The best result is to relax the bowstring, and move the peep it up or down accordingly.
DO NOT DRY FIRE BOW! THE PEEP MAY DISLODGE FROM BOWSTRING AND CAUSE BODILY HARM!!!
If there is wax on the bowstring:
If the bowstring is used, there will usually be a wax build up on the older string.  Before applying the Peep It to the bowstring, remove the wax near the area where the Peep It will install.  Hot water and alcohol may be used to help dissolve the wax build up.
Try to install the Peep It in the same place as the old one, and do not repetitively slide the Peep It up and down the string.  This may cause wax to build within the internal deflection helical grooves.  If that happens, you may place the Peep It in boiling water for 30 seconds to remove the wax residue.
Remember wax is a lubricant, and like for any mechanical application, it causes less friction and will cause less poundage to move the Peep It.
Lower poundage bows have less pressure on the string.  The more poundage on the bowstring, the more poundage is required to move the Peep It.
The Peep It is designed to easily add a serving around the lower two posts if necessary.
Installing the Anchor Knot
Always use a bow press to install the Anchor Knot.
Never use a string spreader as a guide to install the Anchor Knot.
To simply the installation, make sure the Anchor Knot is relaxed efficiently while in the bow press.
Part cable in 2 halves.
Place Anchor Knot between parted cable and follow helical groove.
While relaxing bow press, put upward pressure under the Anchor Knot to secure cable in track.
DO NOT DRY FIRE BOW!!! IT MAY DISLODGE FROM CABLE AND CAUSE BODILY HARM!!!