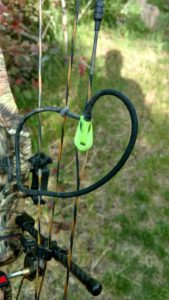 The Peep It with the tube connector, connects one end of the tube; and the other end wraps around the buss cable. So when you draw the bow, the elastic tube will stretch and align the aperture to a perfect perpendicular stance so you can see through the aperture.

This Serve-less Peep It also installs in seconds and doesn't move, yet can be micro adjusted without a bow press.  No more cutting or burning, or risk compromising the bowstring during peep removal.

Installation:
1. Pro Shop installation recommended. Always use a bow press to install the Peep It.
2. Never use a string spreader or previous peep as a guide to install the Peep It.
3. To simplify the installation, make sure Peep It is relaxed sufficiently while in the bow press.
4. Part bowstring in 2 halves.
5. Place Peep It between parted bowstring and follow helical groove.
6. While relaxing bow press, put upward pressure under the Peep It to secure string in track.
DO NOT DRY FIRE BOW! IT MAY DISLODGE FROM BOWSTRING AND CAUSE BODILY HARM!
Not for use with Flemish, or recurve type strings.
Please note we charge a 20% restocking fee for returns or trades (plus postage).