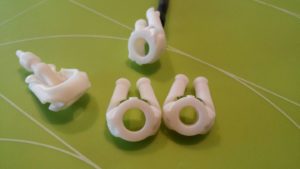 The serveless Peep-It (TM) is a revolutionary design.  No more having to serve in your peep or having to cut or burn it out.   No more accidentally cutting or burning your bowstring during the peep removal process. Install the peep it with a bow press in seconds. Micro tune the peep without a bow press.  Once peep it is installed, it will not move.
Installation:
Use extreme care when removing existing string serving from bow.
Bow press must be used. DO NOT use string splitter for this application.
Remove existing peep and thoroughly inspect string before the next step. (DANGER) Replace any string that may be to unsafe to shoot.
Evenly separate string into two halves.
With the Peep-It posts facing the top cam, Place one side of the peep into the provided grove. Then repeat this process on the other side.
Insure that all string strands are routed into groves properly.
With the bow string relaxed, remove the wax within a 3 inch area of where the peep will be installed. Mark the spot where the previous peep was embedded before removing the old peep.
Verify correct installation before next step.
Bow string may now be put back under full pressure.
Fine tuning may be required. Moving the peep it up or down minimally without relaxing the string may cause residual wax to build up in the grooves within the posts. Wax is by nature a lubricant. The best result is to relax the bowstring, and move the peep it up or down accordingly.
DO NOT DRY FIRE BOW!    IT MAY DISLODGE FROM BOWSTRING AND CAUSE BODILY HARM!
Not for use with Flemish, or recurve type strings.

Please note we charge a 20% restocking fee for returns or trades (plus postage).