Description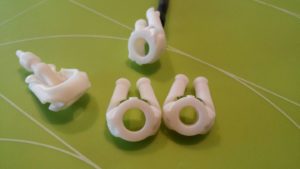 The serve-less Peep It (TM) is a revolutionary design.  No more having to serve in your peep or having to cut or burn it out.   No more accidentally cutting or burning your bowstring during the peep removal process. Install the peep it with a bow press in seconds. Micro tune the peep without a bow press.  Once peep it is installed, it will not move.
Installation:
1. Pro Shop Installation recommended. Always use a bow press to install the Peep It.
2. Never use a string spreader or previous peep as a guide to install the Peep It.
3. To simplify the installation, make sure Peep It is relaxed efficiently while in the bow press.
4. Part bowstring in 2 halves.
5. Place Peep It between parted bowstring and follow helical groove.
6. While relaxing bow press, put upward pressure under the Peep It to secure string in track.
DO NOT DRY FIRE BOW!    IT MAY DISLODGE FROM BOWSTRING AND CAUSE BODILY HARM!
Please note we charge a 20% restocking fee for returns or trades (plus postage).